Monday, January 4th, 2010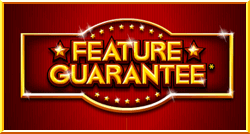 This $1,000 jackpot game is a 25 payline slot with a top payout of $25,000
Feature Guarantee
- 5, 15 or 25 free games will be awarded, with all rules as per the Free Game Feature.
- The meter will reset to 150 paid games remaining after this Feature Guarantee trigger event.
- A different Feature Guarantee meter is used for each bet per line increment.
- Each Feature Guarantee meter is independent and decrements when bets are made at that bet per line level only. Instant Trigger Chance
- The player may also attempt to trigger the Feature Guarantee at any time if the paid games remaining is less than 150.
- The chance to trigger the Feature Guarantee is displayed, and increases as the paid games remaining indicator decreases.
- Press "Play" on the Instant Trigger Chance to enter the feature trigger screen.
- Press either "Return to Game" to abort the attempt or "Play" to try to trigger a feature.
- If "Play" is selected, an indicator will spin around a wheel and stop on either a red or green slot.
- The number of red and green slots are an indication of the trigger chance at the time and will be shuffled randomly across the wheel.
- The Feature Guarantee will be instantly triggered if a green slot appears in the indicator window after the spin.
- If "Play" was selected the Feature Guarantee meter will reset to 150 paid games remaining irrespective of the outcome.
You can play Aztec's Treasure at the Sun Palace Casino
PS – USA Casino players accepted